Automatic Equipment Identification (AEI) Railcar Tracking
Industrial and transit railroad carriers struggle to accurately track the location of railcars within their railyards. Train crews often misreport the location and position of railcars. 
Historically, carriers have relied on Automatic Equipment Identification (AEI) to capture the consist of trains entering and departing yards. However, AEI sites have been prohibitively expensive and therefore not cost effective to implement within railyards; however, the lack of accurate railcar tracking information has also resulted in significant cost to carriers.
Automated railcar tracking eliminates the need for manually inventorying and searching the facility for railcars. By adding railcar tracking you can get real-time railcar information and location as you move cars around your facility. You can use the railcar tracking database to search for any particular railcar and determine its location in the railyard and position on the track.
In 2018, Apex Rail Automation entered into an exclusive licensing agreement with Softrail, Inc. to develop a low-cost AEI solution for railyards.
This agreement provides us the ability to include AEI in our Modular Yard Automation (MYA) system for approximately 20% of the typical cost. AEI stands to significantly benefit both Class I railroad carriers as well as the industrial railroad carriers.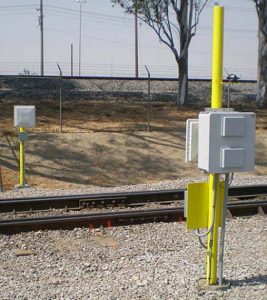 SmartPass Reader
Presence Radar
Doppler Radar (Optional)
Serial-to-Ethernet Converter 
Ethernet Switch
Windows Computer
WLAN (Optional)