FAS-PAS Dark Territory Switch
There are an estimated 70,000 railroad track miles in North America that are non-signaled lines otherwise known as "Dark Territory". Operating in Dark Territory is a reality for Class I railroads as well as for the hundreds of other regional and short-line carriers. Dark Territory poses many challenges to safety and efficiency. 
For example, track switching from the mainline to a siding traditionally meant brining the train to a complete stop, personnel exiting the locomotive, manually throwing the switch into reverse, bringing the train through the siding, and finally stopping again to return the switch to the normal position.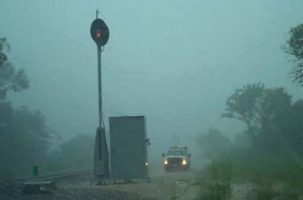 FAS-PAS Dark Territory Switch Machine
We have a better solution for switch control in Dark Territory. We call it "Failsafe Audible Signal – Power Assisted Switch" or "FAS-PAS". Our patented FAS-PAS is a completely safe and cost-effective mainline switch control solution for Dark Territory. With FAS-PAS the locomotive sends a request to query (or throw) the switch machine from up to two miles in advance of the siding while on approach. Once a request is made and the switch move is completed, the locomotive crew receives a vital audible message on their VHF from the FAS-PAS system notifying them that the switch is lined and locked for their requested move. The FAS-PAS system is designed to return the switch to the normal position within a predetermined amount of time. 
FAS-PAS can be purchased as a complete solution that includes the following sub-systems: vital radio message, switch machine, occupancy detection, switch point indication, control and housing unit. FAS-PAS sub-systems can also be offered individually to fit your existing infrastructure.