Commitment to Quality Manufacturing
Apex Rail Automation differentiates itself through its high quality, innovative products and new product launches and equipment updates, which have continually garnered the attention of Class I railroads. We accomplish this by investing in our people and our equipment. Our team conducts incoming inspection of parts and raw material, in-process inspection as product parts and components are assembled and moved throughout the facility, and final inspection prior to packaging finished product for shipping. Each of these inspections is appropriately documented with Quality Control sign-off.
For more than 15 years Apex has continued to certify for the Association of American Railroads M-1003 Certification. Learn more about M-1003 Certification.
In addition, Apex has satisfied the FTA Special Trackwork requirements for special engineering projects.
To achieve this, Apex Rail Automation contracts with an outside auditor to conduct an onsite audit of its manufacturing operations to evaluate compliance with FTA manufacturing guidelines. The audit checklist is comprehensive and contains over 125 checkpoints including the following:
PCEP Specification 34 11 23 Special Trackwork,
Quality Assurance Program and Manual Requirements,
Management Responsibilities,
Production, Inspection, and Test Planning,
Measuring and Test Equipment,
Incoming Inspection, In-Process Inspection, and Final Inspection,
Internal Audits and Training.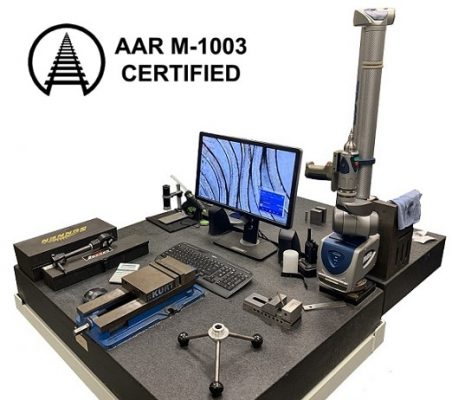 Quality Control personnel continually inspect and test all supplier parts and materials in our state-of-the-art laboratory, which is conveniently located adjacent to our receiving area and production lines. Our QC Technician are well trained and experienced in all aspects of the quality processes including incoming material inspection, test and inspection requirements, documentation and release of hold points. Quality Control has established hold points allowing them to inspect all material at critical points and catch any issues before any production work proceeds. QC Technicians document their inspections and release of hold points on router form. Quality personnel are vigilant in the continual, ongoing implementation of their Quality Assurance Manual in order to maintain their ARR M-1003 Certification.
Equipment Preventative Maintenance
Our committment to quality includes our committment to our equipment. Periodic maintenance of the equipment and machinery are completed and documented to include date of service and personnel completing the maintenance. Frequency of required maintenance is shown on the forms attached on or near the production equipment.